The Michigan online poker market is days away from a massive transformation.
Beginning on New Year's Day, players on PokerStars MI will be able to play against those on the PokerStars NJ platform — the very first time a Michigan online poker operator will share liquidity with another state. PokerStars announced on Friday that it would combine both player pools on January 1, 2023.
The move by PokerStars, which was expected, will mark Michigan's official entry into the Multi-State Internet Gaming Agreement (MSIGA), a multi-state compact designed to support online poker and some online casino gaming.
$100 free
after wagering $1 &
100% up to $600

$100 in free funds
Good slots variety
Regular slots leaderboards
PokerStars Launches Two Special Tournaments
Our community will experience more breadth and depth of games, more tournaments with bigger prizes to win, amped-up promotions, and more choices. On Friday, PokerStars said the combination of its player pools in Michigan and New Jersey would lead to more tournaments and bigger prizes for players in both states.
"Michigan and New Jersey joining forces is great news for our players in these two states, and poker, more generally, as it promises a better experience and even more value, all with the confidence provided by a trusted, licensed operator," said PokerStars US Managing Director Severin Rasset.
"Our community will experience more breadth and depth of games, more tournaments with bigger prizes to win, amped-up promotions, and more choices. To kick start, we are offering generous guarantees on our debut multi-state tournaments that will no doubt provide lots of value for those who take to the tables."
PokerStars isn't wasting any time bringing more tournaments to the Great Lakes State. To celebrate the merger, it will host two special tournaments on New Year's Day with a total of $150,000 guaranteed.
The first tourney starts at 6 pm ET on Sunday and features a $100 buy-in with $100,000 guaranteed. PokerStars will hold a second tournament immediately afterward, at 6:30 pm ET, with $50,000 guaranteed for a buy-in of just $10. Registration for both events began on Tuesday, December 27.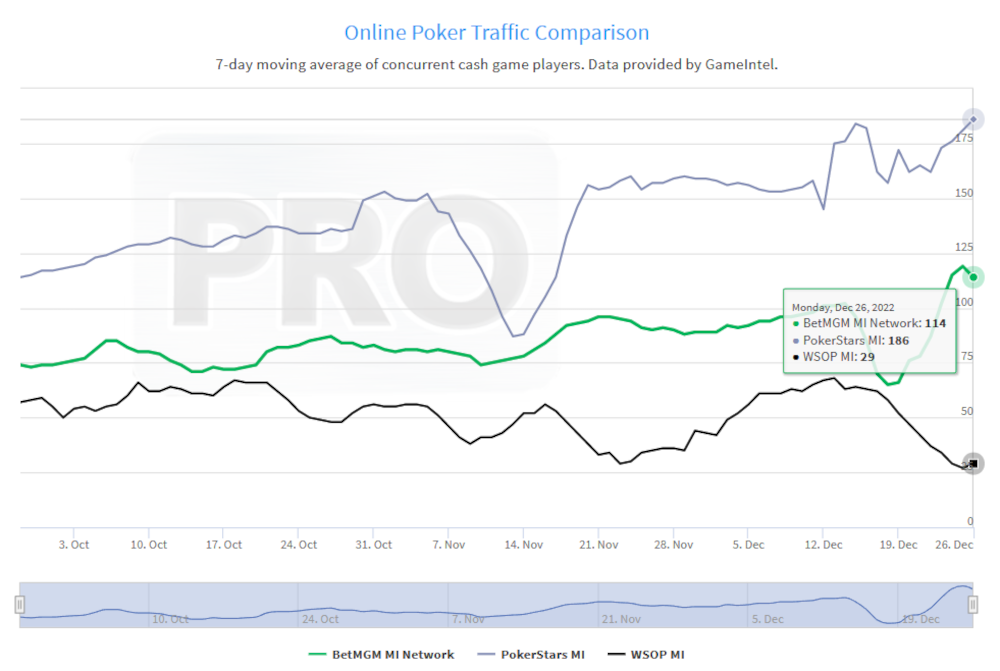 The Process for Multi-State Poker Began in 2020
It has taken Michigan more than two years to get to this point.
During their 2020 legislative session, state lawmakers crafted a bill, SB 991, to give the Michigan Gaming Control Board (MGCB) the authority to enter a multi-state online poker compact like MSIGA. Democratic Governor Gretchen Whitmer signed the bill into law in December 2020. SB 991 became law in March 2021.
In May 2021, MGCB Executive Director Henry Williams said he hoped the agency could announce that Michigan had joined a multi-state compact for poker by the end of the year. MGCB spokeswoman Mary Kay Bean confirmed that the state was interested in joining or forming a multi-state compact in a separate interview in July 2021.
Alas, Michigan did not join MSIGA until May 2022. Two months prior, the MGCB issued guidance to operators hoping to offer multi-state online poker.
PokerStars said it hoped other states would follow Michigan's lead. Pennsylvania, another state with regulated online poker, is also interested in joining MSIGA.
"We worked closely with the regulators of New Jersey and Michigan, and we hope that more will follow this great example," Rasset said.
$1000
match bonus + up to
$75
in
MTT
tickets

100% up to $1000
and

MTT

ticket bundle
Solid

MTT

schedule
Reliable software
Quality rewards program
No Plans Yet by BetMGM Poker,
WSOP
By combining its player pools, PokerStars becomes only the second operator in the US to take advantage of MSIGA, which includes four states — Delaware, Michigan, Nevada, and New Jersey.
Up until now, only WSOP has been utilizing MSIGA. Its pool includes players from Delaware, Nevada, and New Jersey — an arrangement called the WSOP/888 US Network.
It's unclear when PokerStars' rivals in Michigan — BetMGM Poker MI and WSOP MI — will follow its lead and launch multi-state online poker. BetMGM could connect to players in New Jersey.
Until then, PokerStars MI will look to continue its dominance over its rivals in the Mitten State.
According to cash game traffic provided by GameIntel for Poker Industry PRO, PokerStars MI had 186 concurrent cash game seats on its network on Monday, compared to 114 on BetMGM Poker MI and 29 on WSOP MI.
Get ready for multi-state poker by checking for the latest PokerStars MI Deposit Bonus and signing up for PokerStars.