Self-exclusion is a sure-fire way for a player to remove themselves from any gambling temptation. Self-exclusion essentially bans a player from being able to play on an online gambling site. A player can also self-exclude from brick-and-mortar casinos too.
Here, we look at the self-exclusion policies offered by online gambling operators in Michigan.
Self-exclusion can be for varying lengths of time, ranging from shorter cool-off periods starting a 72-hour break to a fully-fledged lifetime ban.
There are often a whole array of other responsible gambling tools that can be used to limit the amount of time and money spent on a site, but self-exclusion remains one of the most robust ways to stop gambling addiction.
There are three top-tier online poker rooms currently offering cash games to players in Michigan — WSOP MI, BetMGM Poker MI, and PokerStars MI (compare them all in our Michigan online poker reviews). Although all offer players ways to remove themselves from gambling, each operator offers a self-exclusion policy that is slightly different from the others.
Here's what each operator offers when it comes to self-exclusion policies in Michigan.
Self-Excluding at
WSOP

MI

Players on WSOP MI have the opportunity to self-exclude at any time. Opting to self-exclude on WSOP will effectively ban a player from being able to play on the site for a prescribed length of time between 1 and 5 years.

Once a player is self-excluded from WSOP, the operator reserves the right to:
Ban that player from live casino properties as well as from the online platform.
If any new account is opened during a self-exclusion period and this is detected, the account will be closed.
Any wagers that are still open once a player has self-excluded will be canceled with related funds returned to the account.
If a player is found to have won bets during the self-exclusion time, the winnings will be forfeited.
Players can still withdraw their account balance during the self-exclusion period.
Promotional material and incentives will not be sent out to the player during this time.
Push notifications on the desktop or mobile will be stopped and will also be stopped for players that have chosen to cool off/ have a time out rather than go down the self-exclusion route.
How to Self-Exclude at
WSOP

MI
Go to the 'My Account' page under the 'Responsible Gambling' tab
Follow instructions to make a request to self-exclude between 1 or 5 years.
Withdraw funds from the site.
For self-exclusion forever, across all online gambling sites, visit the Michigan Gaming Control Board directly.
If a player wants to just take a break rather than fully self-exclude, they can choose the 'cool off' or 'time-out' option instead. During the cool-off or time-out period, they will not be able to access the site — similar to a self-exclusion, but for a shorter period of time.
Cool off or time outs at WSOP MI include the following options:
72 hours
1 week
2 weeks
1 months
2 months
3 months
5 months
During this time, push notifications will be stopped and incentives to gamble will also be paused. Once the time period has elapsed, WSOP MI will reinstate the player's account and they will then be able to gamble again.
How to Set Up a Cooling Off Period at
WSOP

MI
Go to 'My Account'
Click the 'Responsible Gaming' tab
Click 'Cooling Off' which will take the player to the 'Cashier' page
Choose between the available periods of time
Click 'Submit'.
Self-Excluding at BetMGM Poker MI
Over on the BetMGM Poker MI app, things are a bit different.
To self-exclude from being able to play on BetMGM MI for longer than a year, the operator asks players to head over to the Michigan Gaming Control Board, where they can enroll in the state's self-exclusion program as part of Michigan's Responsible Gambling Database and Disassociated Persons List.
The process of getting added to the RG Database in Michigan can take up to 45+ days and requires identity checks. The benefit of self-exclusion via the State is that, once a player is added to the database, the player has a blanket ban from all online gambling operators that operate in the state — along with live, in-person casinos.
This saves a player from having to individually go into each site and self-exclude on a case-by-case basis. However, the paperwork and wait time involved could be a barrier to entry that some people suffering from gambling addiction could certainly do without.
However, for players that want to self-exclude for between 72 hours and one year they can do so via what BetMGM calls its 'Time Out' function.
Once a player has requested a time out, they will be blocked from playing on the site immediately. During the time out on BetMGM MI, a player will still be able to withdraw funds from their account.
An option for players looking to self-exclude for a longer period of time than one year, would be to first set a time out for 1 year on BetMGM MI. Then, as that takes effect, immediately withdraw all funds from the site. Then the player can apply to be added to the Disassociated Persons List at the MGCB to self-exclude at the state level. That way, they are blocked from gambling at BetMGM while waiting for the paperwork to go through for the official long-term self-exclusion.
How to Self-Exclude at BetMGM Poker MI
1. Go into the client and click on the 'Time Out' app.
2. Choose the maximum time of 1 year.
3. Withdraw all funds from the site.
4. Apply to the MGCB to be added to the Responsible Gambling Database and Disassociated person List.
Self-Excluding at PokerStars MI
Similar to BetMGM, PokerStars MI does encourage players to go to the MGCB to get themselves added to the Responsible Gambling Database and Disassociated Persons List, which offers a more long-term solution for players looking to exclude themselves from the action.
Before applying to the MGCB, PokerStars recommends that players withdraw all funds from the site first, as they will not be able to do so after they have been added to the State's Disassociated Persons List.
PokerStars does offer a variety of shorter-term options for players looking to take a break and exclude themselves. These range between 3 days and 6 months and can be accessed anytime via the mobile app, desktop software, or the PokerStars website. The options include:
3 days
7 days
30 days
60 days
120 days
180 days
During these time-out periods, players will not be able to coerce PokerStars to reinstate their accounts. PokerStars will also cease all communication with a player that might encourage them to make deposits or play on its site.
The time-out will apply to playing tournament games as well as cash games and will be applied across the whole suite of PokerStars' products — poker and casino gaming at Stars Casino MI.
If a player has registered for a tournament at the time they opt to self-exclude, they will be removed from the game and their buy-in will be refunded. If a player is midway through a tournament, a pop-up will appear prompting the player to leave the table and sign out. As soon as the software is closed or the tournament is over, the player will be logged out for the duration of time they set the time-out or self-exclusion for.
PokerStars also offers players the chance to be excluded for between 1 to 5 years. If a player is choosing this option, their account will not automatically reopen once the time period has passed. A player will need to contact PokerStars support, after the time period has lapsed, to reinstate their account.
How to Self-Exclude at PokerStars MI
Withdraw funds from your account.
Go To More > Tools > Responsible Gaming > Exclude Me From Playing
Choose the period of time.
Confirm
Michigan Online Poker Responsible Gambling Tools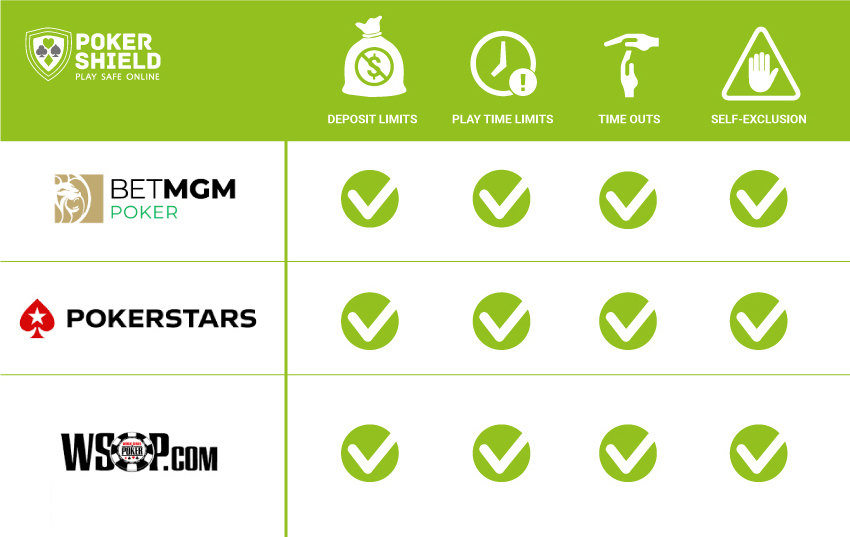 Michigan online poker rooms do offer lots more responsible gambling tools in addition to the option to self-exclude. These tools can be used together to form a cohesive approach to managing time and money spent on an online poker site in the state. Common tools that are offered by the online poker rooms in Michigan include:
Deposit Limits
Play Time Limits
Time-Outs / Cool-Off Periods
Self-Exclusion
These tools can be used ad-hoc or as part of a mix and match approach to suit an individual player's needs. Some may want to limit the amount of money they can deposit onto the site, whereas others may need structured time away from the tables as part of a cool-off or time-out period.